January 12, 2022 | Like many entrepreneurs, Tahirah Jannah Taalib-Din started her business after identifying a problem that she could solve. Unlike most entrepreneurs, Tahirah's business journey blossomed from the call to transform grief into a vehicle for healing in her community. The passing of her husband, Antar Jannah, in July of 2020 led Tahirah to found Hearts Connecting LLC, to offer virtual funeral services for families unable to meet in person, as well as faith-based grief counseling and support. After working with the California Capital Women's Business Center (WBC), Hearts Connecting LLC has expanded their services, and won first place at a recent national pitch competition, earning a $15,000 award. 
A Seed Is Planted
When Tahirah's husband passed, most of her friends and family were still in New York City, where she lived until 2012. With covid-related travel restrictions in place at the time, they could not attend the funeral. "I was completely devastated, and my family could not be by my side," she explained. Luckily, a friend recorded the proceedings, and Tahirah was able to share the video with her loved ones. "Sharing the video brought so much comfort to my heart," Tahirah says, explaining that the first seed of a business idea was planted then. 
Four months later, when a friend of her husband in New York passed away, Tahirah organized a virtual component to the funeral. Though her intention at that time was simply to "pay forward" the support she received, a funeral director in New Jersey let her know that they were in need of virtual services. That, says Tahirah, is when the seed started to sprout. 
Putting Ideas Into Action
She started doing market research, and learned that there were no options for faith-based virtual services. Around the same time that she was beginning business research, Tahirah was in a virtual grief support group for widows, and identified another need in her community.  
"The experience was so beneficial, and I learned a lot," explains Tahirah. "But I was the only woman in my thirties in the group, the only African-American woman in the group, and the only Muslim woman in the group. I knew that women who reflected me needed the support, too." With this in mind, she created a Women of Faith Widow Support Group. The group offers support to widows free of charge, and works to attain sponsorships to cover any fees.   
After identifying her target market and an accessible price point, Tahirah envisioned exactly what her business would offer. She created a spreadsheet describing what her services would be; who she should serve; how the process works, and how to hire her. To solidify her vision, she completed a business development course, and worked with the U.S. Small Business Administration (SBA) to establish Hearts Connecting as an LLC and open a business bank account. With this foundation in place, she invested funds from the first few funerals she operated and created a website. 
Inspiration, Guidance, and Results
After a referral from the SBA, Tahirah connected with the California Capital WBC. With guidance from WBC business consultant, Danielle Marshall, Tahirah completed the self-paced DreamBuilder business plan creator. Several months later, Tahirah participated in the WBC's Pitch Competition during Small Business Success Series 2021. Hearts Connecting LLC's pitch placed fourth–for Tahirah, that was the perfect opportunity for feedback. 
"I connected with Danielle and asked her two questions," she says. "Why did I make it to the top five, and why didn't I make it to number one?" The feedback provided by Danielle helped Tahirah to refine her pitch for future funding opportunities, and ultimately was instrumental in her success at the Launch + Grow Pitch Competition, hosted by Operation Hope and CIT. Hearts Connecting LLC placed first, earning a $15,000 grand prize sponsored by the Francine A Lefrak Foundation, which Tahirah plans to use to achieve her business goals. 
Planning for Success
Throughout the year, Tahirah will continue to work with the WBC–from whom she receives information on available grants and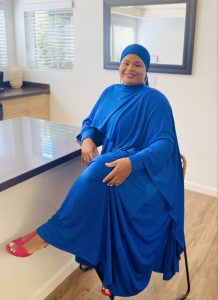 other funding opportunities–, as well as the California Capital Procurement Technical Assistance Center (PTAC), who is assisting her in completing the requisite paperwork to begin winning government contracts. In 2022, Tahirah hopes to strengthen her connections with local hospitals and funeral homes; hire on-call facilitators for virtual services; launch a monthlyadvice column in Muslim Journal; facilitate 395 funerals; serve 100 widows in the Women of Faith Widow Support Group, and to provide monthly online classes to the general public in the area of pre-, during, and post-death preparedness. 
In all of this, says Tahirah, she is staying true to the core of her mission. "It's paramount that as a business owner, I stay in the space of inspiration and intuitive guidance," she says. "Coupled with an undertone of urgency and knowing that my next decision in business is divinely inspired."