January 25, 2022 | For Caroline Bentley, starting a small business is part of a long-time dream of innovating her therapy
practice. As a practicing psychotherapist with public, private, and non-profit organizations, Caroline spent 15 years envisioning techniques and programs whose implementation was not always possible. Now, with support from the California Capital Women's Business Center (WBC), her goals of business ownership and therapeutic innovation have dovetailed. This month, Caroline opened Sagepoint Intensive Outpatient Program, Elk Grove's newest IOP serving adults with substance use disorders, addictions, and co-occurring mental health challenges. With support from a multidisciplinary team of highly credentialed professionals, Caroline carries out unique programming of her design.
Responding to a Need
During the spring of 2020, Caroline was struck by the reports of substance use being on the rise across the United States as a result of the covid-19 pandemic. Indeed, as the American Psychological Association reported in March of 2021, the stress and uncertainty of early 2020 led to at least 13% of Americans reporting new or increased substance use. "With everything I was reading and experiencing with clients, I saw an increased need for treatment," explains Caroline. With extra time on her hands–another early-pandemic side effect for many–Caroline decided to take action to meet the need in Elk Grove, which at the time did not have an Intensive Outpatient Program (IOP) with Master's level clinicians. As described by the Sagepoint website, IOPs are "positioned between residential inpatient treatment and individual therapy", and provide a highly structured program while allowing clients to live at home and balance other daily activities and commitments.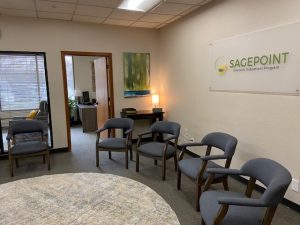 In the initial stages of founding her business, Caroline relied on Google to answer most of her entrepreneurial questions. "I was primarily relying on myself to find the answers she explains, adding that finding the right guides and mentors has been crucial to her business journey. "I have found that most people are gracious with their time and want to mentor those that are coming up. It saves a lot of time to receive guidance and insights from those who are already business owners."
Preparing for Success
Eventually, after connecting with the California Capital WBC, Caroline enrolled in business consultant Natasha Palumbo's 16-week Startup to Success Generator Series. Over the course of four months, Caroline worked with a cohort of fellow entrepreneurs and was guided through all of the essential pieces of starting a business, from creating a business plan to logistical and financial considerations. "Every week there was a topic that highlighted something I was unfamiliar with, but was navigating and needed to understand to open my business," explains Caroline. "It was an incredible experience, and the WBC has been extremely helpful."
Mission-Driven Work
While growing in her business acumen, Caroline is still grounded in her mission to provide her community with much-needed compassionate care. She chose the moniker "Sagepoint" to represent both the wisdom (sage) that would ground their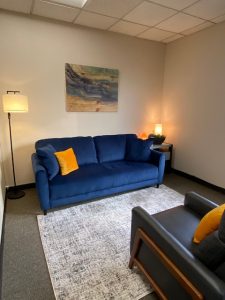 operations, and the journey into themselves that clients would experience (point). For Caroline, these tenets represent the core of her treatment philosophy. While providing evidence-based clinical treatment, Sagepoint goes even further for their clients. "Typical substance use disorder treatment has looked a certain way for many years, and a growing movement in our field looks at providing addiction treatment in a more compassionate and holistic way," she says. "Sagepoint IOP provides programming that treats substance use disorders with the same level of professional care people have come to expect when seeking treatment for any other mental health disorder.
Though still adjusting to full-time operation and building a client base, Caroline is hopeful that Sagepoint IOP will be able to move to a larger facility by the summer of 2022, and will continue to provide discrete, high-quality care to the populations of Elk Grove and Sacramento.