Constance Agee, founder and Executive Director of Agee Fashion Institute, believes that entrepreneurs are the key to bringing sewn products manufacturing back to the United States—but her own entrepreneurial journey began largely out of happenstance.
As an 18-year-old in the United States Air Force needing organizational patches attached to her uniform, Constance was not interested in using the alteration shop on the base. 
"It seemed like a lot of money, and I knew how to sew," she explains. "So I decided to do it myself." 
Seizing Opportunities, Creating More
When people began asking how she got her uniforms altered so quickly, the spark of a business idea was ignited. Constance began offering her alteration services, providing competitive prices and marketing by slipping flyers under the doors of the dormitory of others on base.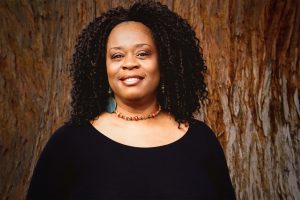 While continuing her career in the Air Force working in transportation logistics, Constance gained experience in the sewn products manufacturing industry by volunteering at an Alterations Shop on the Royal Air Force Lakenheath base in Suffolk, England. After completing her Air Force service, Constance returned home to California and started a home-based alterations business contracting with the then-McClellan Air Force Base in North Highlands. She continued to broaden her knowledge base, studying for two years at the Academy of Art in San Francisco in Apparel Manufacturing and completing another two years of school in merchandising. 
Enterprise-Building For Impact
Eventually, a successful contract with the Travis Air Force Base allowed Constance to put her manufacturing training to use. She created and produced a line of activewear, and in search of more information on selling her services to government entities, she discovered California Capital FDC's Procurement Technical Assistance Center (PTAC). After listening in on a webinar, Constance began working with a PTAC counselor. 
"They really helped pull everything together," Constance explains. "They went above and beyond."
Constance's varied background—her knowledge of transportation logistics, art school education in design, technical education in manufacturing, and experience in content creation from years working at Delta Dental in training and development—ultimately led her to establish Agee Fashion Institute (AFI). Combining her background with the technical assistance of California Capital, Constance launched AFI as a vocational institution designed to help its students create and discover career pathways in design and manufacturing. 
In fact, this goal is at the heart of AFI's unique Education-to-Employment curriculum. 
"[Education-to-Employment] is the process of developing a pathway for students to be introduced to and discover the technicalities of a particular career field, to then work in that field," Constance explains. 
Forging Community Connections
At the outset, Constance used AFI as a resource for youth in the Greater Sacramento Area to access unique training and opportunities. Working with the Folsom Cordova Community Partnership, the Met High School, and the Sacramento City Unified School District, AFI conducted outreach and welcomed individuals as young as 12 to programs and internships that introduced them to career pathways that are often underrepresented as options for high school graduates. 
"Everybody's not ready to go to college at the same time," Constance says. "But that doesn't mean that you cannot gain the experiences to succeed."
AFI students gain training and certifications in vocations such as Fashion Merchandising, Pattern Engineering Skills, Prototype Developer Skills, and Industrial Cutter Skills. Graduates of these programs have found success in different avenues towards employment, including higher education and internships with AFI's resource partners. 
Collaboration For Expanded Offerings
Two such partners are SynByo Prototyping Guild and AMW Design, which have provided crucial support and access to a makerspace for AFI students. Through these partnerships, AFI was able to add 3-D Printing and Industrial Cutting to their curriculum, and graduates have the opportunity to continue their pursuit of employment in the various fields of sewn products manufacturing.  
"Sewing is a process in itself, and in the context of manufacturing it is often ignored or undervalued," says Mike Bell, the CEO of Synbyo. 
An advocate of manufacturing overall, Mike looks to the partnership with AFI as a way to create an integrated network of designers and manufacturers that are able to approach production processes holistically.
That's why Synbyo's network building takes an interdisciplinary approach, building out a comprehensive Sewn Products Manufacturing training that seeks to empower individuals to develop technological skills—like 3-D printing, laser cutting, and Computer-Aided Design—that can ultimately be translated into an enterprise in a number of product sectors. 
With these partnerships, a continued relationship with California Capital FDC, and an ethic for empowering community members to create their futures, Constance was positioned to respond to the unique needs of the Covid-19 pandemic. 
After setting up a Sewing Lab at Synbyo's Makerspace and working with California Capital's Women's Business Center, Constance offered a Sewn Products Training course featuring a hybrid model with virtual instruction on manufacturing and in-person technical training. The first Sewn Products Training was held during the Fall of 2020, and proved to be a successful pilot of the program. 
Constance knows that soft product manufacturing is a huge opportunity for empowerment in underserved communities. While the pilot of the Sewn Products Training focused primarily on the production of PPE masks, the ultimate goal is to bring soft product manufacturing back to the United States. Students are trained to use their home sewing machines to create prototypes and also have the opportunity to access industrial training in areas such as pattern engineering and CNC cutting. 
"It really solidified for me that this is a viable option for people," Constance says. "Students were receptive of what they wanted to do. Suddenly they were able to say, 'This is something I've thought about for a long time, and now this whole dream of mine is coming true.'"
Many of the students were women from underserved communities, who have historically lacked access to capacity-building opportunities—including the technical assistance and capital needed to start an enterprise of their own. Funding their businesses is a challenge, but can be leveraged as an opportunity to connect with community development financial institutions like California Capital. 
"The minimum they need is a sewing machine," Constance says. "When they expand, they may require some other funding."
Creating Pathways to Entrepreneurship
This desire for opportunity is one that is echoed across different communities Constance has spoken with. With the Covid-19 pandemic forcing many women back into the home, the chance to operate an enterprise safely from their home—especially one with the possibility of expansion like soft product manufacturing—is empowering. Several students from the first Sewn Products Training went on to assist as instructors in subsequent series offerings, and many have other aspirations for applying their new skillset. 
"I took the training initially to learn how to sew but I was quickly introduced to such a vast wealth of knowledge about the Sewn Product Industry that I decided to stay longer and keep with it," says Pachia Vang, the Business Navigator of Hmong Youth and Parents United Covid-19 Collaborative. 
"Moving forward I hope to use the skills I learned to operate my very own small business and start a blog to experiment with new ways of making Hmong textiles." 
Dedicated to Sustainable Success
Constance and AFI have been a resource to students unduly impacted by the pandemic, too—students like Nusheen Baig, whose studies at the Fashion Institute of New York were upended in the spring of 2020.
Nusheen began studying at AFI when she was 16, building a portfolio for her art school application. Going through AFI's fashion program and engaging Constance as a mentor created a pathway for Nusheen to pursue fashion school in New York, a supplementary program in Italy, and a practicum with Levi Strauss & Co jeans.
"She's always treated me as an equal and expected a lot out of me," explains Nusheen.
"But that is because she's doing everything she can to make sure I can succeed."
Indeed, AFI's commitment to its students' sustainable success became clear when Nusheen's studies at FIT were ended prematurely due to Covid-19 restrictions. She returned to Sacramento, and because her working relationship with Constance had remained strong, she found a role at AFI. As returning to New York to finish school became less likely for Nusheen, Constance worked with FIT to create an accredited internship through AFI that will allow Nusheen to complete all of her credits and graduate on time with the degree she has been working towards for years. 
Designing An Innovative Sewn Products Sector 
When discussing her work, Constance readily offers the statistic that sewn products make up 90% of our lives. A sewn product is anything that requires stitching, both soft products and hard, both retail and industrial. With this in mind, it is clear that manufacturing an array of soft sewn products can lead to plentiful opportunities for aspiring designers and entrepreneurs—all they need is the training.