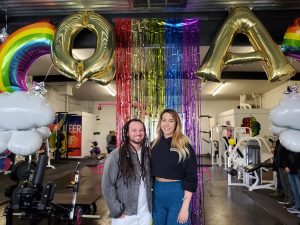 For Hayden Glenn, a sports psychologist and the co-owner of Queers & Allies Fitness, exercise has been more than a means to staying in good health.  A lifelong athlete, Hayden played multiple sports until a knee injury in college caused him to take a break. During this time, he reflected on his identity as an athlete as well as his gender identity, and decided to begin the gender transition process. While pursuing his Masters in Sports Psychology, Hayden became more involved in the community of LGBTQ athletes and learned about the experiences of Queer athletes. "What I learned was, particularly in the athletic community, there is a huge disparity in mental health–Queer athletes are more at risk of negative mental health outcomes," he explains.  After coming out as trans, Hayden decided to combine his personal training and sports psychology coaching businesses and pivot to serving the trans population with services that would support the physical transition process (including pre- and post-op chest masculinization for female-to-male trans and non-binary folks who undergo top surgery) and address the mental experience of gender dysphoria through mental health coaching.   
THE CHALLENGE
With a vision to create an inclusive and empowering space for trans and Queer folks to train and build mind-body alignment, Hayden began coaching clients out of his garage. The demand quickly grew beyond what the space would allow, so Hayden reflected on the direction of his business. He invited his friend, Sarah Serbic, to be a part of the project, and Queers & Allies Fitness was formed. "We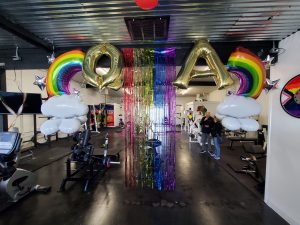 knew it was important to merge Queer and straight populations, because it's so divided," explains Hayden. "We wanted to create a space for allies to show their support in a healthy way as well."   
Looking to build a full-service gym with offerings beyond one-on-one training, Hayden and Sarah knew they would need to explore commercial leasing options–and that a capital infusion was a must.  
THE GAMEPLAN
While searching for the perfect space to lease, Hayden connected with the California Capital Lending Center and began the loan application process. Working with the credit administrator and a business advisor, Hayden solidified his business plan, created realistic financial projections, and completed the rigorous work of applying for funding.  
"The process took longer than anticipated, but the biggest takeaway was the amount of support we received from everyone we worked with," says Hayden.  
Ultimately, Queers & Allies Fitness was approved for a $75,000 loan in late 2022.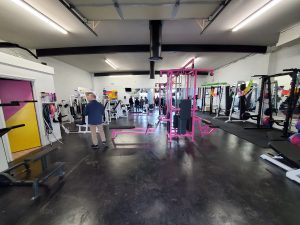 With this, Hayden and Sarah were able to secure a lease in East Sacramento, purchase exercise machines and weights, build out their administrative space, and have working capital moving forward.  
THE RESULT
Hayden and Sarah opened the doors of Queers & Allies Fitness in December of 2022, and celebrated their grand opening on March 4th. To date, the gym has 20 members, 10 of whom are personal training clients. By the end of the year, Hayden hopes to have 80 members and 30 personal training clients. In addition to growing their client base, Hayden and Sarah are building an attainable culture for populations that are sadly still marginalized in traditional gyms and athletic spaces. "I want to host a trans and non-binary powerlifting competition, and eventually, I want to have a space that could accommodate youth leagues. There are a lot of trans youth that don't have access to sports now," says Hayden, explaining that many young people are still faced with choosing between transitioning or playing in sports leagues. With Queers & Allies Fitness, Sacramento has become a stronger and more welcoming place.  
Queers & Allies Fitness is located at 1770 36th Street. Check out their recent feature on KCRA 3 below!