For Janine Anderson, working with Sacramento's underserved youth populations is more than just a passion: it's a family legacy. Growing up, Janine's mother, Rosalie, would often open up their home to foster youth, providing an safe space for all children–Janine included–to learn how to navigate the real world. "She was always big on making sure that we were prepared to maintain a job, navigate the workforce, and communicate effectively with supervisors," explains Janine. In 2007, Janine and her husband, Maurice, launched LaCar's Legacy, a nonprofit that empowers youth with employment services including resume writing, interview strategies, and conflict resolution coaching. Now, with a new for-profit endeavor, Janine is bridging the gap between securing a job and what it means to thrive in the workplace. Working primarily with neurodivergent youth, Janine is launching Build a Sundae, an ice cream shop where youth will real-world experience and acquire transferable job skills. With support from her Women's Business Center counselor, Janine has written a business plan that has allowed her secure a lease, to hit the ground running with pop-up events, and prepare for a grand opening in 2023. 
STARTING WITH A MISSION, AND ICE CREAM  
In 2007, when Janine and her husband launched LaCar's Legacy, their goal was to empower youth to actively participate in their communities, and represent themselves authentically. Doing workshops at community spaces across South Sacramento, Janine built on her experience growing up alongside foster youth and learned even more deeply about what young people need to thrive.  
"What we found is that, for neurodivergent youth, they need to be understood and afforded the right type of patience," says Janine, adding that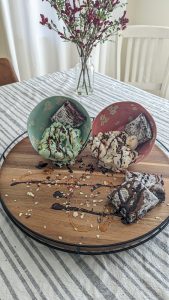 many of the youth in that population are not given the opportunity to perform to the best of their ability. "My mother didn't put limitations on anyone, and they rose to the occasion. We wanted to keep that going."  
As their work expanded, Janine began to imagine how LaCar's Legacy could expand the impact of their programming beyond simply finding a job– and providing on-the-job experience was a natural next step. Proving workplace skills training in-house would ensure that teachable moments are not missed, and the youth get the most out of their employment. "We wanted to provide a place that's inclusive, diverse and allows people the time to learn and acquire skills in an environment that allows for mistakes," says Janine.  
When imagining what type of business could fit that need, an ice cream shop seemed like a no-brainer. In addition to providing opportunities for learning fast-paced customer service, staffing logistics and inventory management, ice cream was another way to honor the family legacy. Janine's mother, Rosalie, loved ice cream (mint chocolate chip in particular), and Janine gained her first job skills at an ice cream shop in high school.  
SEEKING SUPPORT TO GET STARTED 
With her idea and goals in place, Janine was ready to work on the technical side of starting a business–and knew she would need support to navigate the start-up process.  
"The whole idea of a business plan was so daunting: where do you start? What is the purpose? Once you have it, what do you do with it," explains Janine, who was directed to the Women's Business Center by an economic development officer at the City of Rancho Cordova. She was matched with a business counselor,
Prashante Bailey, who has worked with Janine to write an actionable business plan. "I chose to write a longer, more detailed plan, and it has been so helpful to have Prashante to talk things through with," she says. "She helps me think out the process, and offers resources and guidance on areas I hadn't thought about."  
As she plans for the year ahead, Janine is on solid ground to launch her business. Since working with the WBC, Janine has secured a lease, created financial projections, and booked pop-up events to begin selling as Build a Sundae ahead of their grand opening.  With Build a Sundae, Janine will be honoring her mother's legacy not just in spirit, but in practice.  
"We think of our ice cream shop as a starting space. The goal is to help them build confidence, help them to be avid in the workforce and to help them to promote on to some other careers that they may way want for themselves."

To learn more and stay up to date on Build a Sundae's grand opening, visit www.buildasundae.com