January 6, 2022 | Oftentimes, a new year brings with it new resolutions, and refreshed focus on personal and professional goals. For Asia Hilario, a certified Life Coach and successful mental health blogger and podcaster, the new year is also the perfect opportunity to uproot the beliefs that are keeping us in cycles of burnout and stress.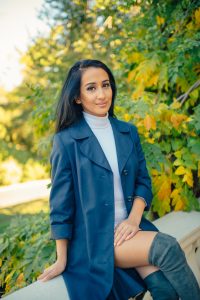 In addition to growing her own business, Ms. Hilario is the teacher of our upcoming eight-part mental health series, Preparing For Harvest, which begins January 27th. (It's offered free of charge–click here to sign up!) We sat down with her to discuss her business journey, tips for entrepreneurs to cultivate mental health, and why the harvest is a fitting metaphor for self-love. 
*Note: this is a transcript of a longer conversation. Some comments have been edited for length or clarity* 
California Capital: How did you get your start as an entrepreneur?
Asia Hilario: I originally started as a fashion blogger after people on social media reached out asking me to share about my outfit choices. I started that blog, and it got some traction, but my heart wasn't in it. After more people reached out suggesting I write about my philanthropy, which I had been doing for years but didn't promote, I transitioned to a lifestyle and mental health and wellness blog. A few months after launching, one of my posts went viral and my blog was read in 160 countries. 
When more people started messaging me looking for advice, someone suggested that I become a life coach. I didn't know people got paid to do that! So I got my certification and launched my coaching business in 2020. I was able to leave my corporate job and work on my business full-time just eight weeks after launching. 
CC: Do many clients come to you looking to make the jump to business ownership?
AH: They don't necessarily come to me thinking they want to pursue entrepreneurship, but through the program they realize they don't feel aligned with their current job any more. It takes a lot of bravery and healthy self-esteem to really go after what you want, and self-love is where that starts. 
CC: Why did you decide to focus on mental health as a career? 
AH: I'm a childhood abuse survivor, so with that background I grew up with a lot of self-limiting beliefs. I also have depression, anxiety, and PTSD. I firmly believe that mental health affects how we think, feel, and act, and it also helps us handle stress and make healthy choices. In regards to entrepreneurship, it's tied to the belief that we can thrive and have success in a chosen industry. 
Once I started taking care of my mental health, my whole world changed. I think everyone could benefit from learning how to take care of their mental health. I'm also a former crisis counselor for Crisis Text Line, so it has always been a passion of mine. 
CC: Do you see common themes among your clients who are entrepreneurs? 
AH: Definitely: burnout, imposter syndrome, stress, overwhelm, feelings of inadequacy. Those are the most common themes. During Preparing for Harvest, I'll talk about "self-concept", which is a collection of beliefs about oneself. Many entrepreneurs don't realize that a lot of their thoughts, actions, and beliefs are rooted in childhood, trauma, or other past experiences. 
CC: How does self-concept impact mental health? 
AH: Unless we get to the root of our self-concept, we'll be recycling the same challenges. The people that don't see change in burnout, etc., it's because they're only going surface level. They're not digging deep enough. In terms of self care, self-concept is really big because we have to dig into what identity we're anchored to that is keeping us from doing what's good for us. 
Because we know what to do! It's just getting ourselves to do it that is the challenge. 
CC: What do you wish more people knew about mental health/wellness? 
AH: I wish people knew that it's much more than just positive thinking and being optimistic. 95% of what we do, say, think is on autopilot by our subconscious. It's kind of scary to think that we're not really in control. Our subconscious is our master program, so unless we reprogram we'll just repeat the same patterns. Will power can only go so far, and just being positive doesn't get to the root of our problems.  
I also think that people forget the brain is an organ. We think mental health is just in our heads–we don't hold it to the same standards that we do our bodily health. When we experience something traumatic we sweep it under the rug, rather than seek the help we need to make sure we heal properly. Chronic stress hugely impacts our mental health and brain. I read recently that 72% of entrepreneurs are affected by mental health issues compared to 48% of non-entrepreneurs.
CC: Why did you choose the name "Preparing for Harvest" for your upcoming series with the Women's Business Center? What does that concept mean to you in relation to mental health?
AH: As entrepreneurs, when we're producing fruit that is not good in our business, do we change the branch, or do we change the soil and the environment that we're growing these fruits in? I like that analogy because unless we uproot and change things, we'll produce the same fruit. 
We think mental health is on the surface level, and a lot of entrepreneurs, a lot of us can be addicted to the stress and we don't know it. I wanted to create an analogy that would show the importance of digging deep. 
Preparing for Harvest runs January 27-March 17 and is offered online, free of charge. If you are ready to dig deep and plant the seeds of mental health and business success, click here to register.