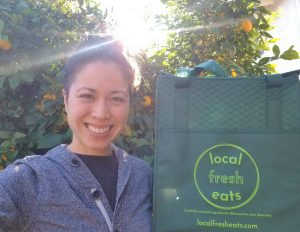 Michelle Duong, founder and CEO of Local Fresh Eats, knows firsthand what goes into environmental stewardship. Working as a conservation scientist for over 10 years at local and global organizations, Michelle developed a "big picture" perspective on humans' relationship with Earth's natural resources. Seeing that the largest impact on land use comes from food production, she began to seek out farms that espoused practices of regenerative agriculture–a land management philosophy that recognizes the interconnectedness of ecosystems through farming techniques that benefit biodiversity, soil health, waterways, and more. "There are farms that are already managing the natural resources on their private property, but how is it affecting their bottom line?" explains Michelle. "It's almost like they're making a sacrifice, and I wanted to provide market incentive and reward farmers for doing that and make it easier for consumers to find those farmers." Michelle knew that, for regenerative practices to spread, someone would have to bridge the gap between environmentally minded producers and consumers.     
With this in mind, she founded Local Fresh Eats, a grocery delivery service that
provides regular deliveries of fresh, seasonal goods to subscribers.  Michelle works directly with farmers to exercise her expertise and provide her customers with quality products and opportunities for education beyond what is commonly available.    
THE CHALLENGE
With a clear vision for her online farmers market, and a list of farmers in the Greater Sacramento area from whom to source, Michelle began working on the technical aspects of running a business.
As a first-time entrepreneur, Michelle knew she would need assistance from the start.  She had begun a simple business plan, but questions of choosing a legal structure, licenses, permits, and insurance needs persisted. She connected with the California Capital Women's Business Center (WBC) and was matched with Business Counselor Prashante Bailey.  
THE GAMEPLAN
Michelle worked with Prashante to lay the foundations of her business. With expert guidance, Michelle completed her business legal filing, worked on financial projections, developed a marketing strategy, and built a website. In November of 2022, Michelle made her first deliveries through Fresh Local Eats, and continued working with the WBC to refine her operations and marketing strategy.  
A key focus of her business strategy since launching has been to increase revenue by keeping overhead costs low. "I love that the WBC takes a holistic approach, helping in so many aspects of being an entrepreneur," says Michelle. "It's been essential for helping me fill in knowledge gaps and helping with overwhelm." At Prashante's suggestion, Michelle has forgone paying for social media advertising, raised her prices, and taken classes on marketing, taxes, and mental health.  
THE RESULTS
Less than four months since launching Local Fresh Eats, Michelle broke even on revenue in February of 2023. Having someone with an outside perspective of what strategies and strengths to leverage has been key to growing her client base and list of vendors while keeping a close eye on her cash flow. "My husband definitely notices the before and after of talking with Prashante," says Michelle.  "He can't believe how much I get out of just a one-hour phone call!" 
In upcoming years, Michelle's vision is to become a household name as Sacramento's online farmers' market. She hopes to make local, nutritious food accessible to families who don't have the opportunity to attend in-person markets or otherwise rely on delivery services. "Sacramento is a great place for this type of business," she says. "We have so much opportunity: a yearlong growing season,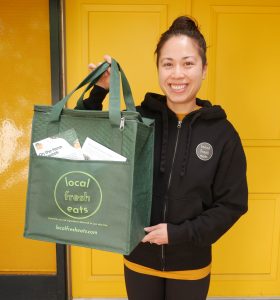 different scales of farms doing amazing conservation work, and an established culture of supporting local farmers." While adding clients, Michelle is also leveraging her website blog and social media presence to educate on regenerative agriculture and other sustainability topics. With ever-increasing impact, Local Fresh Eats is on track to be an important piece of the Sacramento region's sustainable food system.  
To learn more or become a Local Fresh Eats Client, please visit: localfresheats.com