JUNE 22, 2021 |  In March, a survey conducted by Yelp revealed that nearly half a million new businesses opened in the U.S. during the Covid-19 pandemic, suggesting that the entrepreneurial spirit is difficult to quench. Illustrative of that fact is the Start-Up to Success Generator series offered by California Capital Business Consultant Natasha Palumbo, which just wrapped up its first 16-week run and saw a cohort of students graduate with a comprehensive startup business plan.
 As a first foray into the culture of entrepreneurship, the course wrapped up on Friday, June 11 with a "Pitch-Off": each student presented their business plan to a panel of guest judges, fielded questions, and worked through feedback. Judges selected the top 3 pitches for recognition. Meet the winners of the first Startup to Success Pitch Challenge, and stay tuned for more information on the next offering of the course. 
MARINA ONACA, BOBA WITH ME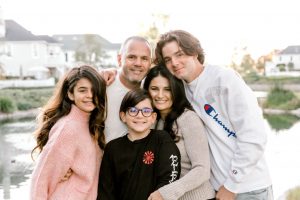 Marina Onaca is a mother of three whose business idea sprouted in response to a need she saw in her community: more spaces where teenagers and pre-teens can socialize, express themselves, and enjoy the boba beverages that are climbing in popularity among that demographic. Parents in the community, like Marina, who wanted their children to enjoy these benefits were regularly driving 15 to 20 miles several times a week. As an answer to the gap in the local market, Marina decided to start Boba With Me, a boba cafe designed as a safe space for community members of all ages to gather. Marina spent much of the Covid-19 pandemic exploring the resources available through the Small Business Administration (SBA), and working with Natasha Palumbo to develop a thorough business plan. Boba With Me's flagship location opens this summer, and Marina has high hopes for the future. 
What are your dreams for your business? 
"We see our business as a place where ideas will be generated, artists will be promoted, friendships will develop and community will come together, which is why we look to grow to many new communities and open our doors to friends all over the state. We see our concept embraced by each community looking for a positive environment in which our young generation can interact and collaborate. Our goal is to open a new store every six months."
JUNE ARMSTEAD, BRAIDZ N' THANGZ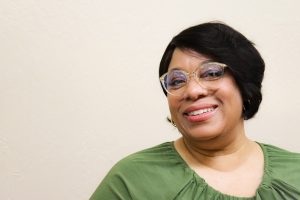 June Armstead is the owner of Body, Soul, and Spirit Salon in the San Francisco Bay Area, whose latest venture, Braidz N' Thangz,  is a nonprofit beauty school that will provide young women from underserved Bay Area communities the opportunity to develop professional styling skills and secure apprenticeships. The inspiration for this mission-based organization came when June, a Bay Area native, began working in the beauty industry and notice that her first clientele were young women Black in need of opportunities for gainful employment. She made it her mission to create pathways to entrepreneurship in the formal sector for at-risk youth, and has self-funded the training program for 20 years. Now, seeking funding as a 501c3 non-profit, June plans to expand her offerings and elevate the impact in her community.
What are your goals for Braidz N' Thangz?
"Our salon and training facility has a dedication to education and empowerment. We are targeting 16 to 24-year-old females at risk, and we want to build employment skills within the natural hair industry because they are far too often turning to sex work. We provide a pathway to success with a career focus, and our vision is to be the leading cosmetology training institute for black youth and young adults in Northern California. Our program values Power, Purpose, and Poise!"
LAMERE CARTER, NEW MILLENNIUM DRONE RACING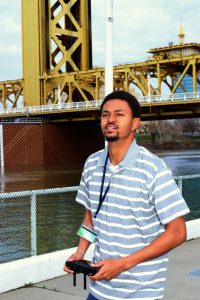 Lamere Carter is the founder of New Millennium Drone Racing, a premium drone racing startup currently in its planning phase. With the ultimate goal of being self-employed, Lamere spent years searching for a passion he could tap into to bring that goal to life. Eventually, with support from Natasha Palumbo (a.ka. "Professor P"), Lamere landed on drone racing, and began researching the market, from industry leaders to Federal Aviation Administration (FAA) regulations. He hopes to spend the next year scaling up his capacity, launching a web presence, and have New Millennium Drone Racing off the ground by summer of 2022. 
Do you have any advice for other aspiring entrepreneurs? 
"Be consistent. So many people start then stop. I'm guilty of this bad habit as well. Secondly,  business is all about problem solving, that's a majority of it. Forget solving your own– can you solve someone else's problem? If you can answer this question, congratulations you've taken your first step to being an entrepreneur."