When Melissa Muganzo Murphy (she/they/sis) reflects on her entrepreneurial journey, a common thread appears: advocacy for Black and Brown communities, driven by creativity. Growing up around artistry and music, Melissa learned early that her talents could provide her not only an income, but a platform to uplift those around her. With the continued mission of supporting Black dreams and leading as an example that Black Queer people can be successful, Melissa's next entrepreneurial endeavor stems from a years-long battle with fibroids, and the holistic lifestyle changes that helped her manage the condition when traditional medicine failed.
In addition to releasing a documentary on her health journey and the medical oppression of marginalized groups, Melissa is working with the California Capital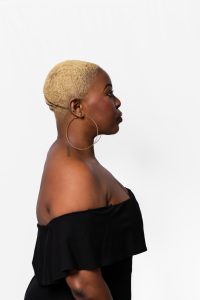 Women's Business Center to launch Mindy's Kitchen, a vegan, on-the-go salad line designed to be accessible to Black and Brown communities with less access to fresh, nutritious food.
Before she was an entrepreneur and activist, Melissa was a performer. Growing up with a mother who was the lead singer of a traveling Gospel group, she caught on early to the power of artistic expression. "I have always been this creative soul, and I learned early that you can get paid for your talents," she explains. "If I can hum and figure out melodies and make money, or do hair and get paid for it, or choregraph a piece and get me and my friends paid, how can I maximize this?"
"I can't let Black dreams die." 
Throughout her undergraduate and graduate education at UC Davis and Sacramento State, respectively, Melissa applied her singing, dancing, and choreography skills to make an impact. As a graduate student, while singing, acting, and doing voiceover work on the side, Melissa connected with undergraduates through her jobs on
campus in housing, career advising, and LGBTQ leadership. Seeing the challenges that graduating seniors faced, Melissa found an innovative way to support Black college graduates: in addition to inviting them to the creative communities she fostered, she launched Muganzo Investments, a scholarship fund through which she provided microgrants to soon-to-be graduates that financed major milestones such as registration for the LSAT, plane tickets to medical school interviews, or filing for an LLC.
"People think you have everything figured out after you graduate, but really, you're the most insecure, the most in debt, and the most confused at that point in your life," says Melissa, who was determined to ensure the success of Black students beyond their time at the university. "I realized that the barriers to success of Black graduates is much more than a money issue–it's a systemic issue, and for me it was an 'I can't let Black dreams die' issue."
Healing and Advocacy 
Since earning her Master of Arts and leaving Sacramento State, Melissa's instinct to turn her artistry and experiences into vehicles for empowerment and social justice has only grown. While earning her degrees, Melissa had been living with fibroids, uterine growths that can cause severe pain, weight fluctuation, abdominal pain, and abnormal menstruation.
When first diagnosed with the condition at the age of 23, after having her symptoms ignored, Melissa sought a hysterectomy. She was denied–but the experience was a turning point.
After encountering firsthand the ways that traditional medicine can contribute to marginalization, Melissa turned to a family friend, a Black nurse practitioner named Susan, who understood the obstacles to getting care that Black individuals face. To begin addressing the condition, Susan suggested that Melissa go vegan. She gave it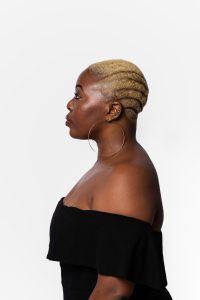 a chance, and by changing her diet, Melissa healed her fibroids, and reversed her symptoms. "I became obsessed with plant-based eating, back when vegan food still tasted like grass," jokes Melissa. She was determined to share the transformational potential of vegan eating, particularly with Black and Brown communities for whom access to plant-based whole foods is marginalized based on histories of redlining and segregation.
With this, the idea for Mindy's Kitchen was born. Named for her mother, Melissa envisioned a brand that would make affordable, robust, fully vegan meals available to Black and Brown communities. Before working full time to put that vision into action, however, Melissa had other voices to uplift: fellow survivors of fibroids, who shared her experiences of racial medical malpractice while seeking treatment.
Sharing an All-Too-Common Story
In 2018, Melissa combined her entrepreneurial spirit, background in entertaining, and commitment to advancing Black dreams to found Muganzo Entertainment,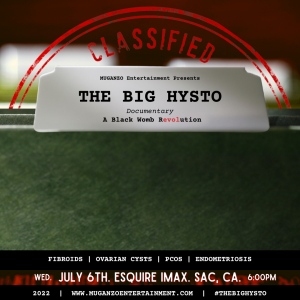 Sacramento's first Black/Queer production company. Leading a 100% Black team, comprised in part of 20 production interns, Melissa filmed, produced, and released the company's inaugural feature-length documentary: The Big Hysto.
The documentary explores and reveals the exploitation, experimentation, and oppression experienced by Black, Brown, and LGBTQ individuals within the American healthcare system. The film, which premiered in Sacramento in July and has screenings across California, shares stories of real survivors of fibroids and other uterine conditions, and is a natural extension of Melissa's desire to build a creative career while empowering marginalized identities. "[The premiere] was a full circle moment," she explains, "It has all been part of an interconnected journey about wanting to be healthy and pursue my own dream." With the film released and gaining notoriety, Melissa has returned her focus to addressing another aspect of Black and Brown health: food access. 
Back to the Cutting Board
Working with Women's Business Center counselor, Prashante Bailey, Melissa has begun laying the groundwork for launching Mindy's Kitchen as a line of on-the-go, vegan salads. "A part of health and wellness and sustaining our life is people recognizing that our internal is more important than external," says Melissa, who sees this new endeavor as part of food justice work already being undertaken in Northern California. "And the only way for our external to be well is to feed good things into our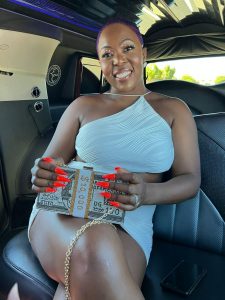 bodies." Ultimately, Melissa's vision with Mindy's Kitchen is to increase longevity by making it easy for people to opt for fresh fruits and vegetables over highly processed convenience foods.
To do that, she knows that every element of the business must be strategic and intentional. With Prashante's guidance, Melissa developed a goal to sell Mindy's Kitchen products in locations that
historically marginalized communities have come to rely on for their food shopping, and don't feel intimidated entering: gas stations, convenience stores, and big box retailers. "Everybody's going to the gas station. So I'm asking, how do I get in there, and get people to start saying, 'Have you tasted Mindy's?'"
As Melissa continues to research the intricacies of sourcing, manufacturing, and contracting, Prashante has been a partner in brainstorming solutions to obstacles, and given her the right questions to ask to find the right answers. "I really am excited about this journey and one thing I'm committed to now, is the reality that some of these grand ideas are slow burns," says Melissa. "They start with a thought and then you put in the work."
With a goal of keeping as much as possible of the company's operation and partnerships Black-led, Melissa is optimistic about Sacramento as the right place to launch. She is currently applying for the Alchemist Community Development Corporation's Microenterprise Kitchen training program, and was inspired to see that most of the other potential participants were Black entrepreneurs.
Through all of these efforts, Melissa remains focused on continuing her filmmaking work, serving the community through positions on the Sacramento Rainbow Chamber of Commerce Board of Directors and Visit Sacramento LGBTQ Advisory Committee, and building a new legacy through Mindy's Kitchen.
"I'm riding the journey of the slow burn–I'm being intentional with my timeline, while also not taking time for granted."
For screenings of The Big Hysto, visit https://www.muganzoentertainment.com/