In the spring of 2020, Brittney Hoffman felt that something was missing. As a school counselor, the beginning of the coronavirus pandemic meant a shift to remote work,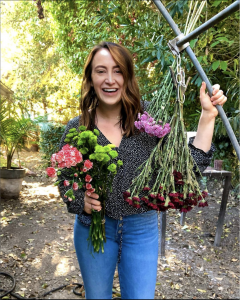 and less connection with the students she was used to seeing every day. To stay grounded, Brittney began to channel her energy into gardening, growing flowers, and learning new artistic skills, including creating planters in custom designs. Her friends took notice of the unique personality that Brittney brought to her creations, and began purchasing planters and dried floral arrangements. Soon, Brittney had a steady stream of orders keeping her busy.  While maintaining her day job, Brittney made her hobby official and launched Glass House Garden, building a brand that includes custom orders, workshops and pop-ups, and events. As her business has taken on a life of its own, Brittney has turned to the Women's Business Center for guidance on managing her business growth, and taking an analytical approach to the not-so-artistic elements of business ownership.
A Quick Start
Soon after establishing Glass House Garden, Brittney was invited to a small business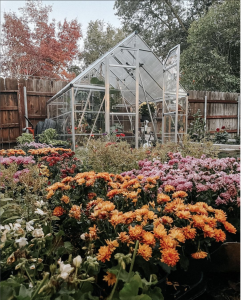 pop-up at The Creative Space, which introduced her to a new clientele. From there, Glass House Garden's growth has been entirely organic.  
"All of my marketing was word of mouth," explains Brittney. "My friends would share what they bought, and people took notice." 
Of course, Brittney's designs are made to be noticed. With planters that range in shape from elephants and puckered lips to "sassy booties", the pieces go beyond simple functionality to become a form of self-expression.  
"I just want it to be fun," says Brittney, who admits that she started creating her own planters after being unable to find pre-made ones in her price range. "At first, I wanted everything in neutral tones and shapes, but once I started adding in the fun stuff, it brought everything together. I wanted it to be eye catching." 
Seeking Guidance
In fact, Brittney's offerings caught more eyes than she was prepared for at first. Between orders, pop-up invitations, and requests to host workshops where participants decorate and fill their own planters, Glass House Garden picked up momentum quickly. As a first-time entrepreneur, and the only one in her circle of family and friends, Brittney rode the wave of demand without a clear plan or guidance on managing the technical side of her business.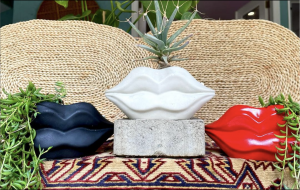 On a particularly challenging day, Brittney knew that she needed to take a step back and reflect on the fundamentals of her business–but she was not sure where to start.  She posted on social media asking if anyone knew of resources to help small businesses grow, and a friend sent her a link to the California Capital Women's Business Center.  
After registering for services, Brittney was matched with business counselor Prashante Bailey, and the puzzle pieces began to fit together. Working with Prashante, Brittney raised her prices, reflected on her business plan, and built strategies for setting boundaries with clients.  
"I'm so glad that I sought out support despite those days that I just wanted to let go [of the business]," says Brittney, who describes her approach business as ever-evolving. "Working through those moments and finding the growth in them is not easy, but it's something we have to do."   
Back to Basics
Continuing to grow in her entrepreneurship, Brittney has been focused on learning the ins and outs of business financials–tasks that, she admits, she is not naturally inclined to. With Prashante's guidance, Brittney has begun learning integrated payment and management systems like QuickBooks and Salesforce, and tracking her cash flow.  
"I have beautiful, creative chaos going on at my house; the art is the core of my business. Tracking income, taxes, and finances is my biggest hurdle, and it's the most important aspect in any business. I've grown a lot in this area, and I have a lot of growing left to do."  
Feeling more in control of the less intuitive aspects to her business has enabled her to lean into her creative side, and bring new verve to the enterprise. As she has laid the foundations for a well-run, high-potential business, Brittney has been able take on new opportunities for in-person workshops and event, and focus on expanding her product line.  
Maintaining a Growth Mindset
In the near future, Brittney hopes to create opportunities to merge her business with
her passion for working with students. The school where she continues to work as a counselor is in a historically disadvantaged area, and Brittney encounters many students she knows would benefit from the opportunity to learn about business ownership.  This pairing would be a natural fit, as Brittney's philosophy towards her business embodies the growth mindset that she encourages her students to adopt.    
"I used to sit in my mistakes in a negative frame of mind, but now I know that I can feel bad about something that's happened, but I have to move out of that space much quicker," explains Brittney, reflecting on how her concept of herself as a business owner continues to shift. "Mistakes always happen, but growing from that and knowing that it doesn't have to be the end is what matters."