For Josephine Odom, the Founder and CEO of Stepping Stone Auto Sales, commitment to her business journey has meant everything. With over 30 years of professional and business experience, Josephine has always had a passion for helping others
and ensuring they receive the best service and experience possible. Stepping Stone Auto Sales was inspired by Josephine's desire to provide reliable transportation for individuals in underserved communities, and was established as a wholesale used car dealership in March of 2019. With support from the WBC, and a loan from the Lending Center made possible through the Wells Fargo Open for Business Grant, Josephine entered the retail car sales space in 2021. 
SEEKING GUIDANCE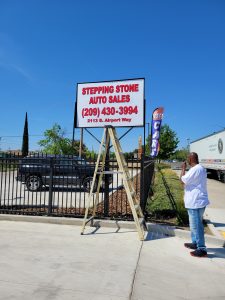 In October of 2020, Josephine began working with the California Capital Women's Business Center. Looking to overcome the challenges of operating her business during COVID-19, while also working full time as a truck driver for Old Dominion Freight, Josephine was matched with WBC counselor, Charles Thomas. She had completed the online business plan creat
ion course available through the Women's Business Center, but still had plenty to work on. 
"[Mr. Thomas] helped me tremendously," explains Josephine, who had not received one-on-one business guidance before. "I had a business plan, but I wasn't sure how to do a balance sheet, and I didn't know how to write a profit and loss statement."
 Over the course of several months, Josephine overcame the challenges she was facing and was ready to begin advancing her business.  
PIVOTING FOR SUCCESS
Seeking a larger return on her investments in used car inventory, Josephine transitioned from wholesale to retail used car sales in 2021—but doing so required increasing inventory, and a significant capital infusion.
Working with the Lending Center, Josephine applied for a sizeable loan that would go towards buying new inventory and having working capital. The loan application process was detailed, but thanks to the work she had done creating her business plan, Josephine was prepared. " I had learned about the 5 Cs of Credit and other topics, which helped me to answer the questions in more detail," explains Josephine, who was ultimately approved for a sizable loan.  
AGILE CLIENT SERVICE
All that was needed was for the closing paperwork to be signed and processed, but with the California Capital office still closed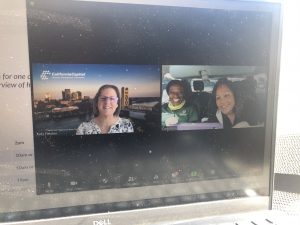 and Josephine's truck driving job keeping her schedule packed, the Lending Center got creative. The Lending Center's portfolio manager met Josephine at the Stepping Stone Auto Sales lot in Stockton, and the two were joined by the chief lending officer via Zoom to finalize the closing documents. 
Since securing the loan, Josephine was able to increase her inventory, and Stepping Stone Auto Sales is now located on a lot with increased visibility. In addition to leveraging word-of-mouth marketing and increasing her inventory in 2022, Josephine recently established Stepping Stone Registration Services. With this new venture, Stepping Stone will be able not only to sell used cars, but to complete the automobile registration process for their customers in-house. "I am serving my community and keeping services in my community," says Josephine, who is looking forward to building her clientele this year.