May 6, 2021 | When small business owners look to expand their operations, questions of how to access new markets and build a broader customer base arise. A promising option for many, one that can lead to higher revenue and access to a broad business network, is procurement. Procurement is the process through which private companies or government agencies enter into a contract with specialized businesses to acquire goods and/or services. It is how military bases source ingredients for their cafeterias, and how regulated utilities companies hire experts for inspection services and project documentation. Contracts are not always distributed equitably, however, with smaller businesses from marginalized communities often left out of the procurement process.
FOSTERING INCLUSIVE SUPPLY CHAINS
To ensure that these opportunities extend to minority, women, LGBT, and disabled veteran owned businesses, the California Public Utilities Commission (CPUC) instituted a Utility Supplier Diversity Program in 2015 through General Order 156. Through this program, CPUC monitors the diversity of the businesses that utilities contract with, and maintains a public directory of certified diverse businesses for use by utilities companies. Despite a commitment by regulated utilities companies to foster inclusive supply chains, many diverse small businesses still face obstacles.
California Capital FDC is committed to the success of Supplier Diversity Initiatives across the state, and connecting diverse small businesses with the procurement counseling, certification assistance, and training they need to acquire and perform on contracts. With this in mind, with the support of T-Mobile—a regulated telecommunications company—and California Water Association (CWA), California Capital undertook a statewide survey of diverse business owners to determine what barriers to access they experience when looking for procurement opportunities, and how capacity-building services can best respond to those needs.
T-MOBILE'S SUPPLIER DIVERSITY PROGRAM: BUILDING EQUITY
As a regulated public utilities company with their own robust Supplier Diversity Program, T-Mobile's sponsorship of this survey was a natural fit, and reflects the importance of groups across industries creating equitable opportunities for businesses that traditionally face higher barriers to success.
"We are a part of  T-Mobile's procurement team which supports the goal of reaching more small and diverse suppliers with opportunities. We meet suppliers, sit on panels, and attend industry events to network with qualified suppliers that are interested in doing business with T-Mobile," explain Stacie Harwood and Joyce Christanio, Supplier Diversity Program managers reporting to the Director of Supplier Diversity Chi Pak. "We seek opportunities for connection across the enterprise."
Business owners from population groups in supplier diversity initiatives—including minority, women, disabled veteran, and LGBT business communities—were surveyed over the span of  18 months, from October 2019 to April 2021. Beginning in October 2019, survey responses were collected in person via random sampling of participants at industry events.  From March 2020 onward, as Covid-19 led to event cancellations and social distancing precautions were implemented, responses were collected virtually via Survey Monkey email campaign. The numbers presented below represent data collected virtually from March 2020 to April of 2021.
DATA DRIVES ACTION
The data collected reveals the barriers that exist for diverse business owners hoping to sell their services to public utilities companies, explores the types of training and assistance that would be most effective at crossing those barriers, and addresses differences in demographics—like business maturity and location—that must be considered when responding to business needs.
Respondents were asked to provide basic information about their businesses, such as how many years they had been in business, and in what zip code they operate, and their industry.
19% of the businesses surveyed had been in operation for between 1 to 3 years, while 68% had been in business for more than 5 years. 60% and 30% of respondents were located in Northern California and Southern California, respectively, while only 10% were located in the Central Valley region.
While these data points on their own do not indicate what challenges diverse business owners may experience, they are an important backdrop to the more specific questions, and can inform the actions of public utilities companies and organizations like California Capital when they look to create new opportunities. Of the 396 respondents, only 17% of respondents said that they are currently working with regulated utilities companies, and only 8% have worked with any in the past. 297 respondents—75%—reported that they have not yet worked with any regulated utilities company.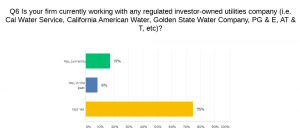 "The challenge for a new business entering the procurement space is precisely that they're new," says Ms. Harwood. "Community-based organizations, like California Capital, are a vital tool. They coach  companies to build capability statements and encourage companies to build business traction through networking."
DIVERSE BUSINESSES, OVERLAPPING OBSTACLES
The challenges that businesses face in taking advantage of procurement opportunities vary, but common themes do arise. Of the 280 survey respondents that shared examples of obstacles they have encountered, many said that a lack of information on bids and available opportunities posed a significant challenge, including information on the bidding process not being open to new vendors and reliance of utility companies upon existing contracts or vendors. Others said that lack of access to decision makers was a concern—and the desire to create relationships with decision makers in order to establish contracts was referenced many times.
"Since finalizing our merger with  Sprint in April 2020, we are integrating the two mature supply chains which entails new processes and supplier rationalization," explains Ms. Christanio, who joined T-Mobile after 10 years of managing Sprint's Supplier Diversity Program. "Virtual conferences, matchmaking events, and industry panels are valuable for us to connect  with new diverse and small businesses of all kinds."
"KNOWLEDGE IS POWER"
Even with robust and dedicated Supplier Diversity programs, the contracting process can be daunting for small businesses like those surveyed (60% of whom have annual revenues of less than $1 million). Outreach initiatives, individualized procurement counseling, and informational programming are essential for demystifying the process.
For example, diverse small businesses hoping to do business with regulated utilities companies can benefit from gaining certifications, such as Minority/Women/Disabled Veteran Business Enterprise (DVBE) and LGBT Business Enterprise certifications that can help them qualify for certain Supplier Diversity program initiatives. Unfortunately, the application process can be difficult to navigate, as they require personal and company tax returns and a laundry list of supporting documents that can be difficult to compile. In these situations, guidance from experienced procurement counselors can be a key to success.
"Knowledge is power," says Ms. Harwood, reflecting on the ways that educational opportunities provided by community-based organizations like California Capital can lead businesses interested in procurement toward success. "Education is huge, because it helps business owners not only understand technicalities like the contracting process and how to write a capability statement, they also get to speak with folks who know the companies they want to work with and help them research the best opportunities."
AN INFORMED RESPONSE 
To serve diverse business owners in the most effective way  and connect them to contracting opportunities for which they are qualified candidates, California Capital is using the data collected to create programs that are responsive to the needs of business owners from marginalized communities. 48% of respondents requested training in the areas of business development and marketing; 22% in contract management and compliance; 18% in planning and research; and 25% requested training in growth management, with 31% also reporting that financial services and access to capital would be helpful.
"As an organization that provides training to our small business community in the greater Sacramento area, it is important that our programming meets their specific needs. The survey does just that," explains SiewYee Lee, California Capital's Program Development Manager. "The data collected educates California Capital on the type of training that is asked for by diverse businesses that we serve. Access to Capital, Business Development and Marketing, and Planning and Research remain the primary focus of our surveyed business owners, regardless of their maturity level. California Capital is committed to providing a networking platform between diverse businesses and buyers."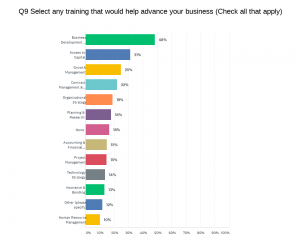 The data collected from the survey will allow California Capital to provide effective, responsive training and matchmaking opportunities for diverse businesses across the state, preparing them for contracting opportunities with private companies like T-Mobile, members of California Water Association and more—and when all stakeholders are actively engaged in building an inclusive small business ecosystem, everyone benefits.