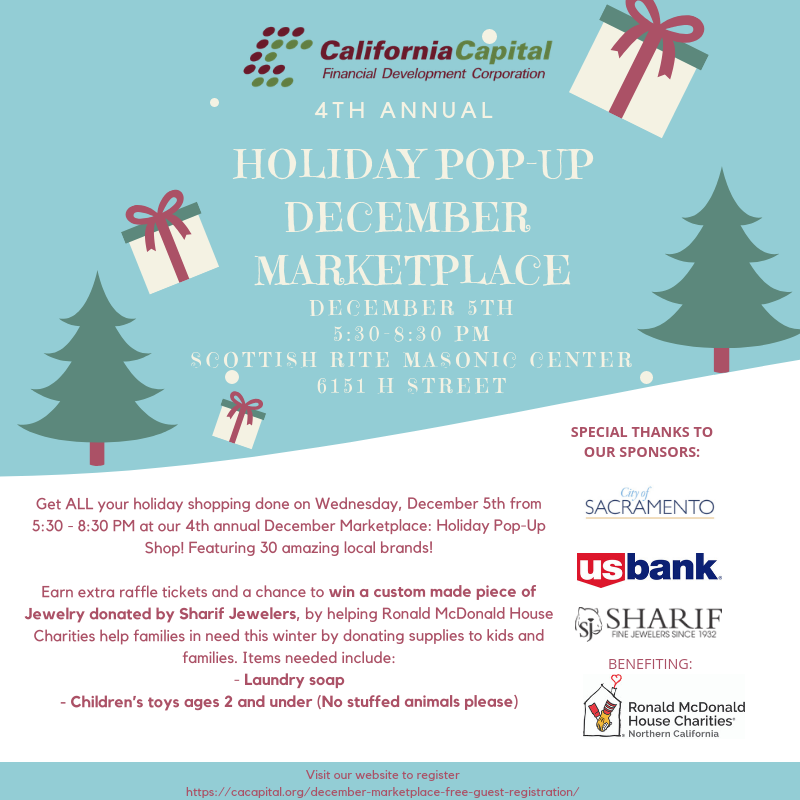 Register for December Marketplace!
Stressing about holiday shopping? Get it all done on Wednesday, December 5th at our 4th annual December Marketplace: Holiday Pop-Up Shop! Featuring 30 amazing local brands including:
Hopewell Healthcare Services
VIP Makeup by LA
Musthavz
BeautycounterByrne
Branding & Design / Spacepig Press
Lux Bo Whim
SharonSDarrow.Com
Wonderful JaJo Unique Creations
smphotobooth
Cork leather & Organic beauty
California Sunlight Corporation
Kimms Bling
Truthful Kernel
Money Wisdom for Women
Multi Mammoth
Inspirations by Gina
Global Hands Artisans
Image Hair Studios
Garden Party Coffee and Tea
Odesi Boutique
3rd Eye Watching
Color Street
Nice and Bella
Sedna Coffee Roasters and Tea
Beadologie
Seymour Gourmet Spices & Rubs
RagzbyRoz
and More!
Helping Ronald McDonald House Charities help families in need this winter by donating supplies to kids and families. Items needed include:
Laundry soap
Children's toys ages 2 and under (No stuffed animals please)