Event Details
Licensed to Care: A Training Program to Start or Expand a Childcare Business
---
You can start a childcare business from the comfort of your own home. This three-part, online program beginning in September 2022 will prepare you to operate an in-home business providing childcare to families within your community through training in the following areas:
Creating a business plan
Identifying growth opportunities
Licensing & safety training
Personal business counseling.
The program is open to all, but designed for women interested in entering the workforce from home. By focusing on in-home childcare enterprises, Licensed to Care will allow women to provide culturally competent childcare to families within their own communities. We are particularly focused on reaching under-resourced communities with this training, so language assistance will be available upon request to ensure that the offering is inclusive.
The course begins on September 7th. Read below for dates and full description of each phase.
Training Will Take Place In Three Phases:
Phase 1:  September 7th-October 5th
 

Introduction to owning and operating a licensed in-home childcare business.

 

Participants will complete this step with knowledge 

of in-home childcare industry needs, education and licensing requirements, and a workable business plan. Also included is soft skills and professionalism training; Diversity, Equity and Inclusion training; business acumen training
Phase 2:  October 19th-November 16th
 

A 5-class continuing education program, 

designed for those who have completed Step 1, or existing childcare businesses, and/or anyone who has earned the requisite educational credits for operating a licensed childcare business. 

This step includes the opportunity to become CPR certified.
Phase 3: November 30th followed by bi-weekly class meetings
 

Follow-up support through one-on-one advising with a Women's

 

Business Center Business Counselor. 

With WBC guidance,

 

participants will track milestones and access more business

 

development resources. This phase includes class meetings, group projects, hands-on training, and opportunities to build professional networks.
**Upon completed registration, you will receive a confirmation email in which the link to join the Zoom sessions will be located. Please be sure to scroll down to find the link**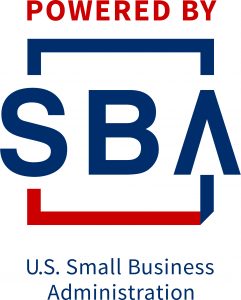 "The Women's Business Center is funded in part by the U.S. Small Business Administration"
Date/Time
September 28, 2022
2:00 pm - 3:00 pm
---