Construction Staffing Professionals Launches with Support from Women's Business Center, Creating Jobs and Bringing People-First Ethos to Industry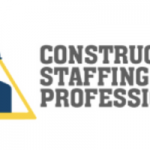 MARCH 11, 2022 | When Brittany Flores got a call from a former colleague inviting her to be a partner in a new business venture, she knew she could not turn down the opportunity. Kathy Ramirez had spent decades at the construction staffing agency where she and Brittany met, and had seen the company stray from its "Mom and Pop" roots. She envisioned a staffing service that would prioritize the professional growth of the construction workers it employs, and committed to starting a new company. Inspired, and looking for change herself, Brittany accepted the offer.  When she began working on the business full time, Brittany turned to the Women's Business Center (WBC) to learn the fundamentals of planning and launching a business. A year later, Kathy and Brittany have opened Construction Staffing Professionals, and have already begun hiring and securing job-placements for workers. 
Ready to leave her corporate job, Brittany began working on the business full time in February of 2021. Having never gone through the steps to launch a business, she connected with the WBC. She enrolled in a 16-week startup generator course, taught by business consultant Natasha Palumbo, which answered all of her questions. "Every step of the class was geared towards the business and ending up with a solid business plan," says Brittany, who worked with a cohort of entrepreneurs to learn the fundamentals of starting a business. Using the free online DreamBuilder business plan creation tool and working individually with Natasha, Brittany established the foundations of Construction Staffing Professionals. "Working with the WBC encompassed everything I needed to open the doors the very first day and feel prepared." 
After more collaboration between the business partners, Construction Staffing Professionals officially launched in February of 2022. In under a month of operation, Brittany and Kathy have hired six employees, secured three complete contracts with construction business customers, and have begun sending employees to job sites. As they gain momentum and prepare for the busy summer season, the founders are focusing hiring and placing more workers, and ensuring that anyone hired and sent to a job site completes a 10-hour safety training through the Occupational Safety and Health Administration. "Our goal is to get all employees OSHA-certified within 60 days of job placement," says Brittany, adding that the certification includes a pay increase and increased marketability. This goal speaks to the service-first approach that the pair bring to their business, by prioritizing the professional development of their employees, and ensuring that their clients are provided with highly capable construction professionals. 
Looking back on the initial stages of her entrepreneurship, Brittany attributes the opportunity for partnership  as a key factor in her decision to launch a business. Having worked with Kathy for several years, she knew the business relationship would be a success. "We worked together so well before, so I knew that our strengths and personalities would complement each other as business owners," she says. With a background in sales and a deep knowledge of the construction industry, Kathy has taken on the role of networking directly with general contractors and foremen on job sites, letting them know of CSP's services. For her part, with years of more general corporate and administrative experience, Brittany manages recruitment of employees, accounting, and operations. "There is definitely a Yin/Yang dynamic."  Construction Staffing Professionals stands as an example of the impact that female founders can have: By putting people and service first, Brittany and Kathy are bringing a fresh energy to the construction industry.